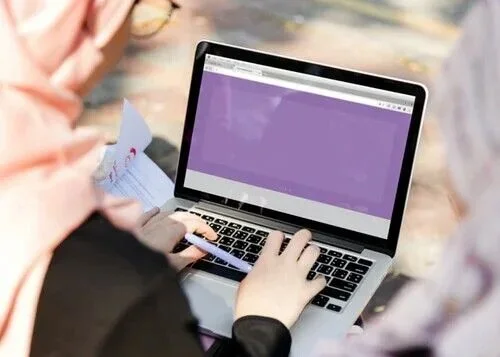 Free online Quran classes To Learn Quran Online At Home

Free online Quran classes To Learn Quran Online Free

Learning Quran Academy UK offers free online Quran classes for New Muslim sisters.Quran teachers are dedicated to teach the Holy Quran and spreading the word of Islam.
Online Quran learning classes are absolutely free for our New Muslim sisters who would like to learn the Holy Quran as a beginner or they would like to understand the Holy Quran. We also offer session to learn Quran online free for New Muslim females who are already able to read the Quran and want to understand the Quran.

We also offer free Quran learning classes for new Muslims brothers with male Quran teachers. This is great opportunity for those New Muslims and who want to understand and learn about Islam. They can learn Quran free.

We also offer free Quran classes from Pakistan, Egypt and from the UK. These online Quranic sessions are free for those who have affordability issues to learn Quran. These free online Quran classes are offered for adults, males and females.

We offered online free online Quran classes with dignified way and teachers will not know whether you are paying the fee or no.
How Does Free Online Quran Classes Work?
1)- The free Quran classes we offered are like paid online classes and we have the same procedure for students.

2)- We will not ask you to pay for learning Quran online with us. We will not send you even monthly invoices or reminders to pay the fee for learning Quran at home.

3)- We will treat you as a regular student and teacher will not know if you are paying the fee or no.

4)- You must inform well in time whenever you will have an emergency or you have an appointment.

5)- When you fill out the form then please mention that I would like to learn Quran free or I want free online Quran classes.
Terms & Conditions For Free Classes
We also have some important conditions to make the fair use of free Quran classes.

1)- Student must be very punctual in taking online Quran lessons. You should be start at your scheduled timings because we are paying all your fee for free online Quran classes.

2)- To learn Quran online free, your attendance rate for free online Quran lessons must be at least 80%. If you are not able to take class at scheduled time then you must inform admin.

2) To learn Quran online free we have some quota to offer free Quran learning. If the slots are available for free classes, then we will start your online Quran classes free, otherwise you have to wait until the free slots are available to start online free classes in next few months.

3)- We will be paying your fee from our donations so you must be deserving person and eligible to accept the donation.

4)- If you did not inform well in time and there has been irregularities in online Quran sessions then we will cancel your free online Quran learning classes and these will be offered to others who are in real need to learn Quran.

If you would like to enroll yourself for free online Quran classes then please Contact Us.